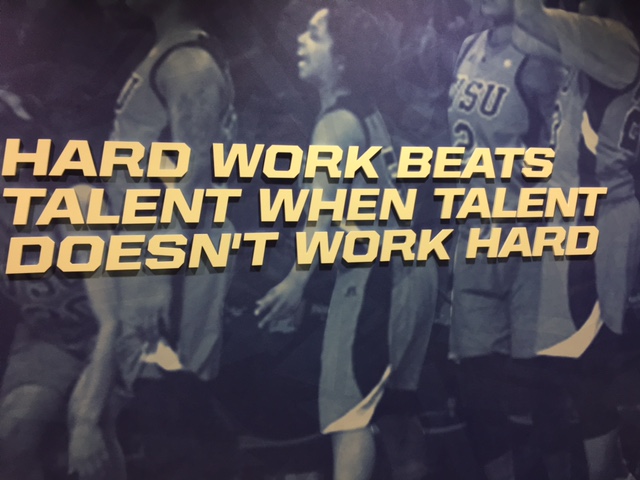 How Resilient are You?
….Golf requires a lot of it!
First let's start with a definition:
 (of a person or animal) able to withstand or recover quickly from difficult conditions.  synonyms: strong, tough, hardy   2.  (of a substance or object) able to recoil or spring back into shape after bending, stretching, or being compressed.  synonyms:  flexible, pliable, supple)
Lexi Thompson is a living definition of resilience in 2017!  Did you see her performance at the Solheim Cup vs Anna Nordqvist?  She lost the first 4 holes of her singles match and was 4 down at the turn.  Team USA only needed 3.5 points to secure the Cup on Sunday.  Lexi, being the first match out, could have easily "packed it in" at the turn and let her team cover for her.  
Instead, she responded: birdie-eagle-par-birdie-birdie-eagle-birdie to start her back nine.  Yes, that is 8-under par in seven holes!  She went from 4 down to one up!  Nordqvist was just stunned… yet she also dug deep inside to hit a fabulous approach to #18 to secure a tie in the match.
A Resilient Player is a Coach's Dream
For a college golf coach, one of the worst things you can hear from a team member, much less multiple team members during the same round is the following: "I don't have it today.  I sure hope the rest of the team is playing well."  I would ask them over and over again to push the reset button and just hit one shot and go find it and hit another shot.  Hang around long enough to see if things will turn for the better.  You never know what the next shot will bring.  In college golf (with 4 scores counting), one shot per person saved per 9 holes goes a long way over the course of a tournament and season.
So, be resilient like Lexi in your golf every day.  When you want to "pack it in" for the round, remember that you never know what the next swing or hole will bring….maybe a Lexi Stretch!  Find events to play and show coaches you are resilient!