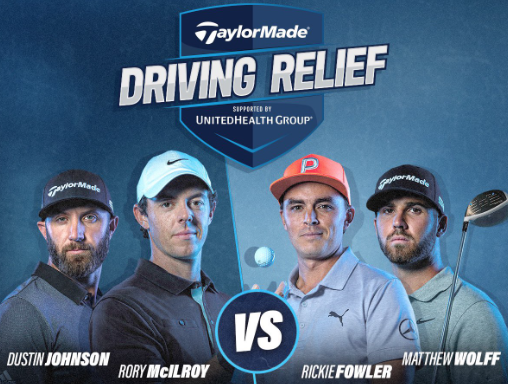 Notes from watching Taylor Made Driving Relief on Sunday, May 17, 2020. Nice to see golf again! Despite 4 inches of rain and low winds, Seminole Golf Club did not disappoint and should be on everyone's bucket list!
Here is what we noticed and what you can learn
1. Time off can cause some "rust" at all levels…even professionals. Did you notice that mostly it was their short games and driving of the golf ball where the lack of play showed the rust? Did you know that those 2 areas (tee shots and short game shots) combine to make up 87% of your game?
Lesson Learned: Be Brave. As you ramp up your game for competition, focus on your short game and driving the golf ball. Most will want to go hit 7 irons off perfect lies and focus on the 13% of their game. Be Brave and hit a lot of drivers and short game shots and set up pressured practices in these areas.
2. Competition is Competition no matter where or how you set it up. This was not a PGA Tour event where they were playing for millions for themselves. It was a charity day, albeit nationally televised, for others. The competitors still felt the "heat" and will be better for it when the bell rings in Texas in June at Colonial.
Lesson Learned: Pressured Practice is the key. Set up as many pressured practices as you can. You can do this with individual goals or with others. Set a standard and go beat it! Stretch yourself out of your comfort zone. It is okay to fail. Wouldn't you rather fail forward at home than have an illusion of success only to realize you were not ready to compete later?
3. Mistakes happen. Poor shots were hit by everyone. Yet they picked their bag up and walked to the next shot ready to play again.
Lesson Learned: Play to the finish. You never know what might happen. Stay focused on the task at hand and as the saying goes, "Hit it, go find it, and hit it again."
4. The rangefinder gives limited information. Did you notice that the person who made the most birdies had a rangefinder and a yardage book? Yes, Ricky has won the Pro Member more than once at Seminole. He knew the greens at Seminole have amazing and subtle movement. Hitting an approach shot in the best area to have an uphill putt is key to making birdies.
Lesson Learned: Gather more information. When you can play a practice round, either make notes in your own homemade yardage book or one you purchased. While you are young and might have an amazing memory, it is a lot easier to write/draw information to be easily referenced when your nerves are on fire. If you cannot play a practice round, there are some really good apps along with google earth where you can see the slopes of the topography.
5. Different strokes for different folks. How about the different golf swings? And you thought it took perfect form to play at a high level. Nope. But, you do need to be able to repeat your motion over and over. Golfers search for perfection because we assume when we find it, we will keep it forever and never have to search again. Unfortunately it is not that easy.
Lesson Learned: The golf ball only knows impact. There are many ways to accomplish greatness. Find your Way! Own your swing! Learn your tendencies. Know how to manage them. Your tendencies will be with you for life! The best players know how to manage themselves and their golf swings. Learn this and you are well on your way to greatness!