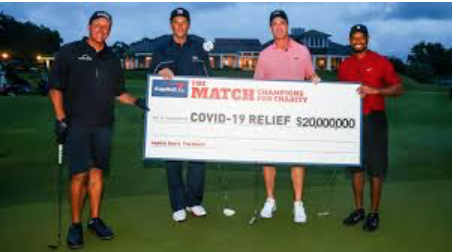 Notes from watching The Match II on Sunday, May 24, 2020. Unlike TaylorMade Driving Relief Event where it rained 4 inches the night before, The Match II was actually played while about 4 inches of rain fell! Really impressed by these guys fulfilling their commitment in some less than desirable weather. Kudos to them for their time and entertainment.
You never know what might happen and what you can learn
1. Hats off to the GOATS. The conditions were far less than perfect. Really impressive they played as well as they did in some really bad conditions.
Lesson Learned: Be prepared for anything and everything when you arrive to play. "Prepare for the worst and hope for the best." A good golfer game plans for all sorts of scenarios.
2. Never Give up. Tom Brady was obviously the most nervous at the start of The Match II. He started slow, but kept his chin up and responded to the challenge from Brooks Koepka by holing out on #7 for a birdie to add $100,000 to charity!
Lesson Learned: Play to the finish. You never know what might happen. No matter how you start, stay focused on the task at hand and as the saying goes, "Hit it, go find it, and hit it again."
3. Stay positive….Phil talked a lot of smack, but stayed positive the whole day. He was not on his game, but kept himself and Tom in it to the end…almost pulling it off!
Lesson Learned: Mistakes happen. Poor shots were hit…Yet they went to their next shot ready to play again. Be tough on yourself in practice and easy on yourself in competition. Stay upbeat.
4. Get it in play off of the tee…Find a way to find the fairway or at least a place where you can play your next shot. You have to be in play off of the tee to be able to finish the hole. Learn a "safety shot" and play it…especially when nervous!
Lesson Learned: Make multiple game plans for different scenarios. Never be afraid to hit less than driver off of the tee. It is okay to hit a longer shot into the green. You have to be able to find it in order to hit it again.
5. Short Game, Short Game, Short Game! Nothing like a nifty pitch, bunker or chip shot to keep the momentum going. Phil played short game shot after short game shot to stay in the Match. Nothing is stopping you from being a wizard on and around the greens. Use your imagination in your practice.
Lesson Learned: Pressured Practice is the key. Set up as many pressured practices as you can. You can do this with individual goals or with others. Set a standard and go beat it! Stretch yourself out of your comfort zone. It is okay to fail. Wouldn't you rather fail forward at home than have an illusion of success only to realize you were not ready to compete later? Check out the Will2Golf Scoring Guides for help in setting up your practices and pressured games.